About Henry and His Speaking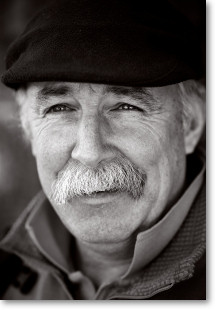 Henry Barber has been climbing for over 40 years. He is a native New Englander but has spent most of his climbing career traveling the globe. He pushed standards from 1971 through 1980 around the world on rock primarily but also on ice and alpine climbs. His favorite experiences have been behind the iron curtain near Dresden East Germany and on the historic cliffs of Great Britain. In 1975 he traveled to Australia and raised the standards three grades in six weeks. While there he did 67 new routes or first free ascents in 42 days. Henry has also alpine climbed in Alaska, Russia, and Africa, and put up ice routes in Norway that have not been repeated in over 25 years. In all Henry has climbed in over 30 countries worldwide.

Henry is part of California rock climbing history. He is considered to have established the first 5.12 in Yosemite in 1975. His onsite free solo of the Steck Salathe is legendary and he made a quick 1-1/2 day ascent of The Nose on El Cap in 1973. His linking of Nabisco Wall, New Dimensions and soloing on-sight Midterm in a day also in 1973 was considered overly ambitious back in the day.

Locally Henry established the first 5.11 and 5.12's on Cathedral, Crow Hill, Ragged Mt and other cliffs in the Adirondacks to North Carolina. His Cilley-Barber route on Mt Katadin and the 20 Below Zero Gully at Lake Willoughby are considered ice classics. Most of the grade five ice routes he has done like The Bragg Pheasant, Black Dike and Repentance were second or third ascents in the 1970's and were done leash less with simple wooden shafted ice tools.

Henry is best known for his staunch self-imposed style and ethics. Some of his hardest first ascents have been accomplished barefoot in the cleanest style. Pulling the rope after falling or lowering from a highpoint were tactics he started in 1975. Many of his routes, which utilized imaginative protection, are considered very bold even by today's standards. Another of his traits has been his onsite solo climbing which he has done from Yosemite cliffs to Russian alpine climbs. He has even established first ascents unroped and solo.

Henry worked for Patagonia for 23 1/2 years and at the peak of his career there he was the director of North American wholesale, which he grew significantly while at the same time revamping the way they did business with sales reps. He has taught sales and service communication and been a marketing consultant in the outdoor industry. He has been married for twenty years to his wife Jill and has a fourteen-year-old son.

Currently Henry gives inspirational talks nationwide at private schools, universities and corporations. Using climbing as a metaphor for life and business experiences he customizes talks to meet the needs of his clients. Passion, The Tale of Two Climbs is a talk he is currently giving at high schools, which chronicles his life as a passionate baseball player who was bullied at an early age. He decided to make his own rules as a climber eventually climbing up to 350 days a year around the globe. What he learns about commitment, peer pressure, making decisions, and creating a productive environment are the key issues the talk covers. Most important Henry stresses to be yourself and follow your heart.