Applying Best Practices of Socially Responsible Businesses to Education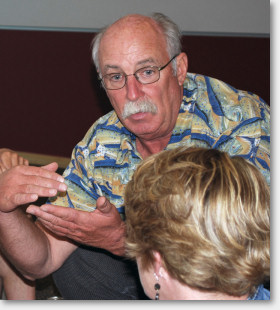 Copyright © Beverly Holmes
A Seminar for Private School Faculty
Applying Best Practices of Socially Responsible Businesses to Education combines a wide range of business strategies and initiatives with curriculum and issues that schools face in our fast changing world. Having a sustained interest in education issues as well as working at the well known environmental leader Patagonia for 23 years has served me well while working with charter schools, boards of 501 (c) (3) schools and presenting to private school audiences.

Many teachers I have interviewed are currently disappointed with in-service faculty days. Words like boring, irrelevant, ineffective and being lectured to, typify normal phrases I hear. Working with heads of school, interviewing staff, and working within your school's mission and core values I build a seminar that addresses your current and future needs. By utilizing business practices from environmentally and socially responsible businesses we form interactive group discussions that lead to actionable strategies and events.

There are many scholars who say that examples from the business world do not correlate to education. If we are thinking about someone with a Masters in Business Administration (MBA) who applies concepts of market share, input / output, sales growth, net profits, profit margins, manufacturing efficiency, return on investment (ROI), etc; I agree. If however we think about management by objective (MBO) or management by quest (MBQ) there are significant correlations to what schools teach and imbue students with. Our seminar together will connect the dots on the following:
How can your institution be more effective in living its mission?
How can your community of faculty, students, parents and the community you are located in be harnessed more effectively?
How can these issues manifest themselves into lessons that are relevant and exciting for the student body and inclusive of a broader community?
How can your faculty work more effectively as a team?
What can your institutional community do to differentiate itself in an ever-increasing competitive environment?
Henry -
We so enjoyed publishing Mike's article. Coloring outside the lines is going to be essential as independent schools (and other types of organizations) flourish in the decades ahead.
Best,
Harriet
This last question is significant as costs go up in all areas of our lives and more charter schools are established. There is increasing pressure on private schools to provide value and maintain healthy enrollments. More parents are questioning when is the best time to place students in better educational environments? What types of curriculum are going to most benefit the student? Businesses struggle with similar questions. Competing locally, nationally or globally adjustments have to be made and strategies must be developed to be successful. Long-term thinking and short term nimbleness are the prerequisites for success.

I would like the opportunity to explore what we can do together. Maybe we want to work in the spring or early summer as some schools do to affect curriculum or change for the coming fall school opening. Maybe a smaller project in the fall will lead to energizing staff and bring new light to the school year. Utilizing this seminar as a back to school motivator is also an effective way to initiate small changes and satisfy requirements of accreditation.