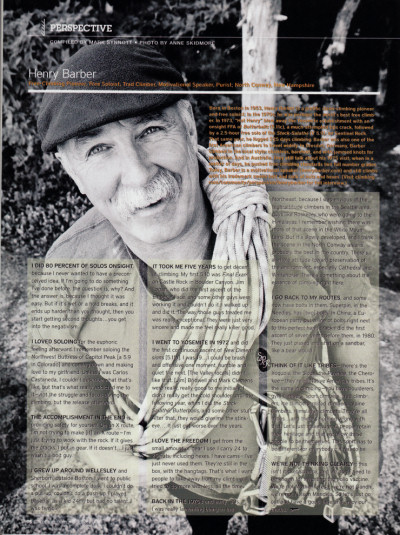 I DID 80 PERCENT OF SOLOS ONSIGHT, because I never wanted to have a preconceived idea. If I'm going to do something I've done before, the question is, why? And the answer is, because I thought it was easy. But if it's wet or a hold breaks, and it ends up harder than you thought, then you start getting second thoughts ... you get into the negativism.

I LOVED SOLOING for the euphoric feeling afterward. I remember soloing the Northwest Buttress of Capitol Peak [a 5.9 in Colorado] and coming down and making love to my girlfriend. Unless I was Carlos Castaneda, I couldn't describe what that's like, but that's what really addicted me to it - not the struggle and focus during the climbing, but the release afterward.

THE ACCOMPLISHMENT IN THE END is providing safety for yourself. On an X route, I'm not trying to make [it] an X route - I'm just trying to work with the rock. If it gives me cracks, I put in gear. If it doesn't ... I just wasn't a bolt guy.

I GREW UP AROUND WELLESLEY and Sherborn, outside Boston. I went to public school. I was a complete dork. I couldn't do a pull-up, couldn't do a push-up. I played baseball as a kid 24-7, but had no talent. I was terrible.

IT TOOK ME FIVE YEARS to get decent at climbing. My first 5.10 was Final Exam, on Castle Rock in Boulder Canyon. Jim Logan, who did the first ascent of the Emperor Face, and some other guys were working it and couldn't do it. I walked up and did it. The way those guys treated me was really exceptional. They were just very sincere and made me feel really killer good.

I WENT TO YOSEMITE IN 1972 and did the first continuous ascent of New Dimensions [5.11a]. I was 19 ... I could be brash and offensive one moment, humble and quiet the next. [The Valley locals] didn't like that. [Jim] Bridwell and Mark Clemens were really, really good to me initially. I didn't really get the cold shoulder until the following year when I did the Steck Salathé, Butterballs and some other stuff. After that, they would give me the stinkeye ... It just got worse over the years.

I LOVE THE FREEDOM I get from the small amount of gear I use. I carry 24 to 25 nuts, including hexes. I have cams - I've just never used them. They're still in the box, the hangtags. That's what I want people to take away from my climbing: I never tried to do more with less, all the time.

BACK IN THE 1970s and early '80s, I was really lamenting being in the Northeast because I was envious of the high altitude climbers in the Seattle area, guys like Roskelley who were going to the Himalayas. I remember wishing there was more of that scene in the White Mountains. But it's slowly developed, and I think the scene in the North Conway area is probably the best in the country. There's a whole attitude toward preservation of the environment, especially Cathedral and Whitehorse. There's something about the essence of climbing right there.

THINK OF IT LIKE TRIBES - there's the Iroquois, The Sioux, the Pawnee, the Cherokee - they're all Native American tribes. It's the same in climbing - you have boulders, gym climbers, sport climbers, trad climbers, ice climbers, mixed climbers, alpine climber, Himalayan climbers. They're all tribes ... and there's nothing wrong with that. Let's just make sure all people retain their heritage and that we allow these people to be themselves. This sport has to be different for everybody - it has to be.

WE'RE NOT THINKING CLEARLY - this isn't rocket science, and we don't need to be known for inventing the polio vaccine. We're not Mother Theresa, we're not Gandhi, we're not Nelson Mandela. So, let's just go out and have a good time and enjoy ourselves.